The 2nd Vocational Skills Competition of the People's Republic of China Opens in Tianjin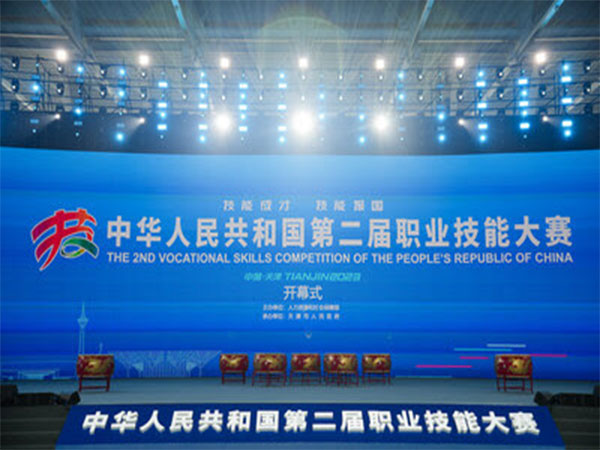 Sep 19, 2023
PRNewswire
Tianjin [China] September 19: The Second Vocational Skills Competition of the People's Republic of China opened in Tianjin on September 16. The theme of this year's competition is "Skills making talents, Repatriation with skills". A total of 4045 participants from 36 delegations across the country took part in the competition for 109 project medals. Competitors such as 58-year-old "experienced masters", 16-year-old "beginning craftsman", students and corporate employees competed on the same stage.
Li Qiang, Premier of the State Council of the People's Republic of China, recently gave important instructions on the work of skilled talents. He instructed that the skilled talent is a valuable resource for employment-first and innovation-driven development strategies. The Vocational Skills Competition of the People's Republic of China is held to build a platform for the majority of skilled talents to show their and exchange skills, which is conducive to promote the formation of a new era of employment with skills, becoming talents with skill, and repatriation with skills.


The State Councillor Shen Yiqin attended the opening ceremony to announce the opening and researched on the related working progress of skilled talents. After the opening ceremony, Shen Yiqin visited the skill display exchange area of the competition as well as the manufacturing and transportation competitions; then she came to the Tianjin University of Technology and Education affiliated Advanced Technical School and the Worldskills Competition China (Tianjin) Research Center to research on and understand the cultivation of technical talents in technical colleges as well as the research and promotion of the World Skills Competition, etc.
Wang Xiaoping, Minister of Human Resources and Social Security, introduced at the opening ceremony that the Second Vocational Skills Competition of the People's Republic of China is a comprehensive national vocational skills competition with the highest specifications, the most projects, the largest scale, the highest level and the most extensive influence in China. The purpose of the competition is to promote training, education, and construction with the competition, and constantly improve the training, utilization, evaluation, and incentive mechanisms for skilled talents.
Compared with the previous competition, the scale and expansion of this competition are closely related to the development situation. Competitors have gone through various of selection in corporate or academic skill competitions, industry skill competitions, and provincial skill competitions, and stand out from hundreds of thousands of competitors, representing the highest level of skill competition in China in related projects.


The event setup of this competition is completely new. Compared with the first competition, this one has added 20 new contests on professional and digital technology skills, such as all media operations, internet marketing, etc. These competitions are of great significance to enhance not only the social identity of new career practitioners, but also to promote employment and entrepreneurship. At the same time, five new professional technology contests such as intelligent manufacturing engineering technology and artificial intelligence engineering technology have been added, which are more in line with the trend of technological skills integration and development.
According to reports, the competition will last for four days, and the closing ceremony will be held on September 19. Not only the winners will be rewarded by then, Tianjin City will also hand over the flag to Henan Province, where the third competition will be held.
Contact: Liu Hejiang
Tel: 0086-22-83218408
Email: 

Photo - 

Photo - 

Logo -

(ADVERTORIAL DISCLAIMER: The above press release has been provided by PRNewswire. ANI will not be responsible in any way for the content of the same)